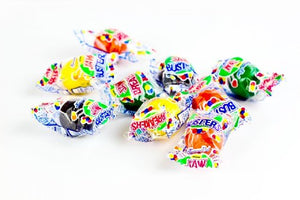 Jawbusters, Wrapped - 30 lbs
Brand: Jawbusters
Features:
Do you love our delicious jaw buster Jawbreakers? Well good news, these come in a large 30 lb. bag
The individually wrapped mouthwatering jaw busters are many layers of fun
Perfect for parties or events, use as decorations or as party favors
These fantastic apple flavored gummy rings will be gone before you know it
Made by Ferrara Pan Candy company which is the number one non-chocolate candy manufacturer in the United States
Publisher: Ferrara Candy Company
Details: The original Jawbreaker. The Ferrara Candy Company makes the original: Jaw Busters. Every powerful Jaw Buster starts with a single granule of sugar. Then, the tiny centers whirled and swirled in layers of melted sugar until the candies reach the perfect size for the perfect, powerful punch of flavor. Sometimes called Jawbreakers (or Bruisers when they're bigger) Ferrara's Jaw Busters are delectable orbs of candy that first hit the shelves in 1919. So much has changed since the first Ferrara candy rolled off the line and into stores in 1908. But the same creativity and innovation that fed those early years remains at the heart of our company. In fact, it's what has made us the number one non-chocolate candy manufacturer in the U.S. We've got a sweet history — but an even richer opportunity for future growth and success is right at our doorstep. Our mission is to take the brands that have been loved for generations to the next level. In 2012, we brought together brands like Trolli, Brach's, Black Forest, Now & Later, Chuckles, and Lemonhead. We're continuously innovating to bring the best-tasting, highest-quality confections to the marketplace.
UPC: 041420007040
EAN: 0041420007040
---